In Mono County, home to Mammoth Mountain and stunning alpine lakes, a Visitor Profile and Economic Survey determined that 82 percent of the county's 6,500 jobs were fueled by tourism.
In neighboring Mariposa County, anchored by the legendary Yosemite National Park, it seems only natural that more than half of residents work in the travel and tourism industry. From front desk clerks to wait staff to hotel or restaurant accountants, tourism powers the county's economy.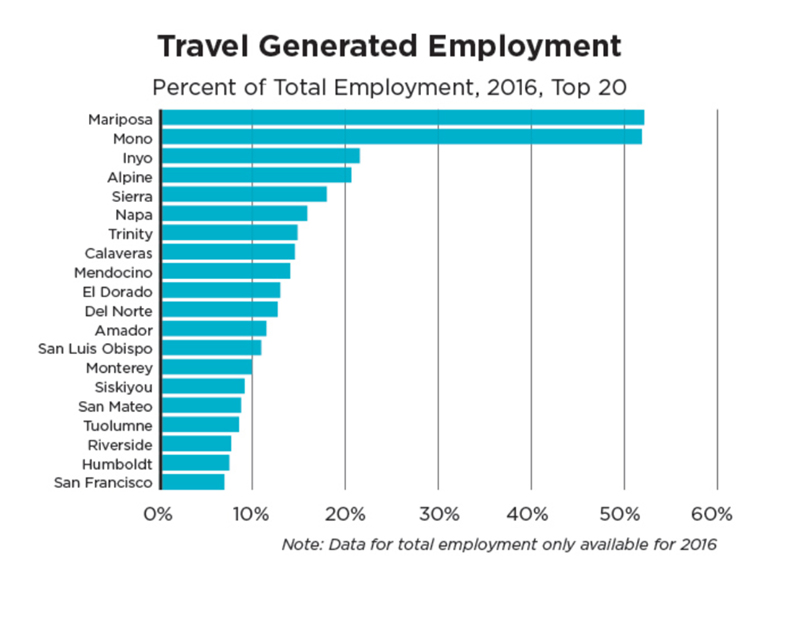 Shaping Experiences
Working in the tourism industry allows many of Mariposa County's residents to use their vast local knowledge to shape visitors' experiences. There are nearly 1,000 vacation rentals and small bed-and-breakfasts in the county, giving the owners the opportunity to work directly with the public.
Jonathan Farrington, executive director of the Yosemite Mariposa County Tourism Bureau, said the B-and-B operators love the opportunity for one-on-one interactions with visitors.
"Those owners always talk about how they really love talking with their guests about itineraries and plans," he said.
And when they step out for a bite, they're often surprised by what they can find. Visitors aren't often expecting high quality food in high-tourism areas like Mariposa, Farrington said, but Yosemite and the beauty of the surrounding land draws a lot of highly skilled cooks. And the park itself is full of naturalists and scientists, whose jobs are supported by the travelers who pour into the area to enjoy its natural beauty.
Trickle Down Dollars
Beyond the jobs directly related to tourism, the dollars people spend in places like Mariposa and Mono Counties flow to support workers in other fields, such as mechanics and grocery store clerks. A May 2017 Economic Vitality Report for Mariposa County states that virtually all local businesses are affected by the money tourists spend.
The danger of that level of concentration, the report said, is that the influx of tourists is often seasonal, leaving more people unemployed in the off-season in Mariposa than in other areas of California.
Farrington's organization works to bring visitors to the area outside of Yosemite's busy season in the summer. A steady stream of visitors keeps both the front desk clerks in jobs and ensures the secondary economy flourishes as well.
"It's important to make sure that the economy is vital year round. Plus, winter in Yosemite is one of the most stunningly beautiful times."
At Mammoth Mountain Ski Area in Mono County, Recruiter Lindsey Rich said jobs can be seasonal, such as ski instructors, but there's such a variety of opportunities that there's something for everyone. Positions range from upper level resort management to food and beverage staff to lift operators.
"The leadership in (the lift operation) department have really made that their passion. They take pride in what they do and that our guests are safe and having fun."
Tax Dollars at Work
Taxes from the steady stream of visitors fund 54 percent of Mariposa County's operations including law enforcement, fire response and public health, said Dallin Kimble, the county's administrative officer.
The county of 18,000 people sees at least 4 million visitors each year, and those travelers often benefit from county services. Search and Rescue teams aid lost or injured hikers and fire response must be rapid when the majority of wildfires are caused by visitors, Kimble said.
In 2018, Mariposa County voters approved an increase to the Transient Occupancy Tax, or "lodging tax," which is providing an extra $3.5 million each year.
The money will "improve fire response through additional Amador station agreements with Cal Fire; provide additional deputies, training and equipment for our sheriff's office," among other things, Kimble said.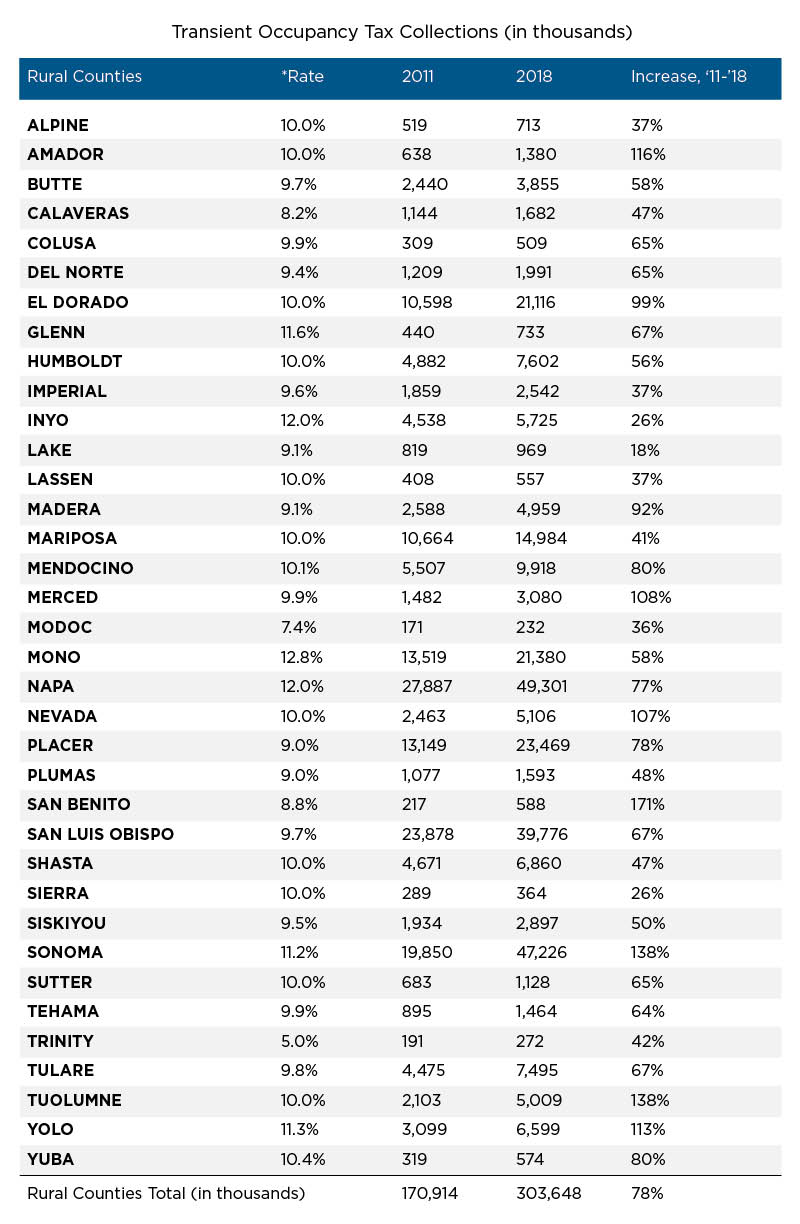 Passionate People
It takes all kinds to keep the Mammoth Mountain resort running and the place has a staying effect on its employees. Rich arrived eight years ago to spend one season on the mountain and never left.
"This place really captures us," she said. "If you want to make it work and you want to stay, that happens."
Between locals who grew up in the area and visitors who fell in love with the mountains and wanted to stay, it takes all types to run Mammoth Mountain. People hiking the John Muir Trail or the Pacific Crest Trail often come back to Mono County after they're done, Rich said, or people who grew up visiting the mountain as kids decide they want to work there full time.
"It tends to be a group of really passionate people," she said. "People who really love our industry, who want to be out in nature, who really care about the environment. People who really just want to be out in the mountains."