Record employment growth continues
In 2018, the travel industry was responsible for nearly 1.2 million California jobs, a 1.7 percent increase over 2017. For context, that's nearly three times more than were employed by agriculture and 40 percent more than worked in construction.
Globally, tourism represents 319 million jobs – or roughly 1 in 10 of all jobs in the world, according to the World Travel and Tourism Council (WTTC).
These figures reflect the enduring nature of travel. For as long as people seek to discover and experience something new, it is an industry that will thrive.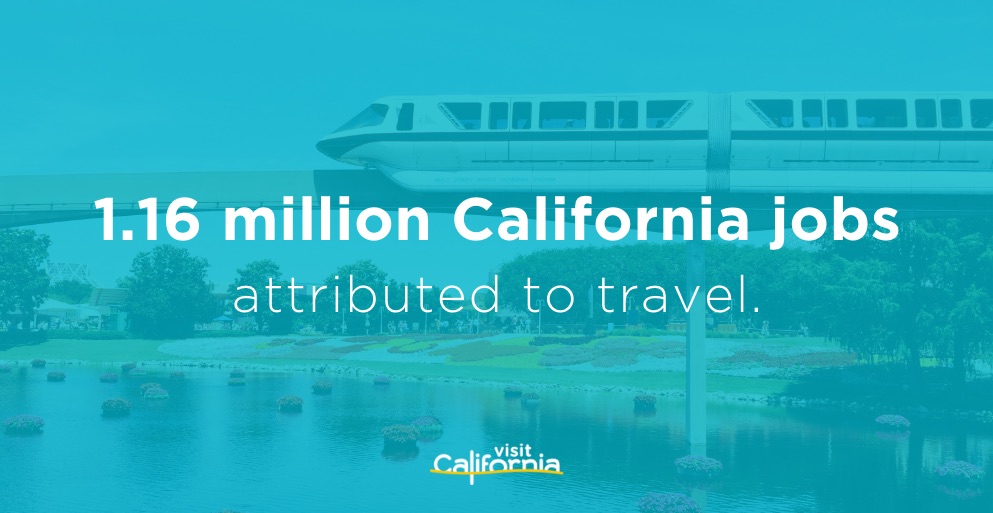 Personal and Professional Development
Tourism is one of the most accessible industries in which to work and boasts comparatively low barriers to entry. According to a recent RAND Corp. study, 4 in 10 workers where either unemployed or in school the year before coming to work in travel and tourism.
Once in the industry, workers find the flexibility, hours, competitive wages and opportunities for upward mobility to be appealing factors that often lead to lifelong careers in travel. In 2017, one-fourth of tourism employees were earning more than $20 per hour; 12 percent made more than $35 per hour (compared to a 7 percent national average). The average wage in California was more than $7-an-hour above the average wage in agriculture,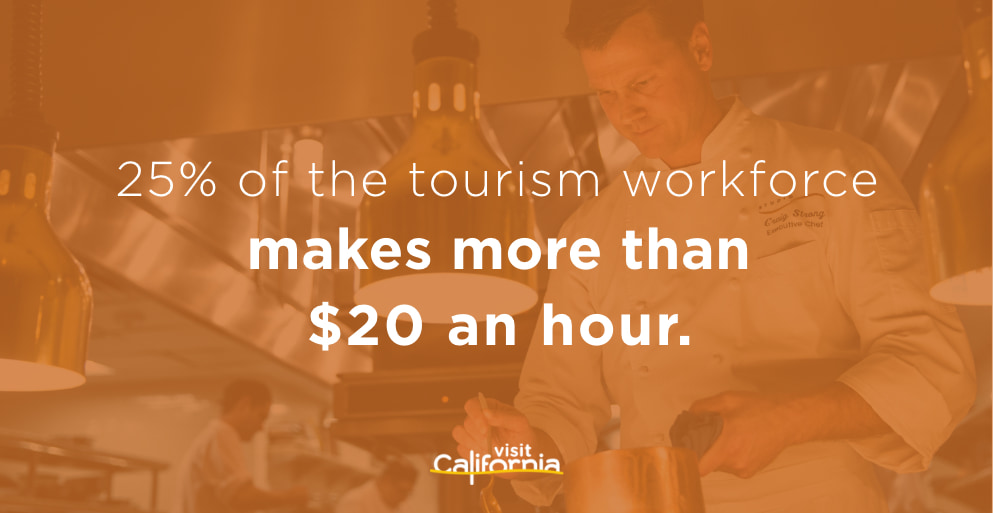 Top 20 Tourism Workforces by County
Travel-generated employment is foundational to every county in California. While larger gateway cities generally command a higher overall number of jobs, many beyond-the-gateway destinations see tourism jobs constituting a fifth to half of the overall workforce.
Jobs for Tomorrow
Today, there are more than 100 Tourism Business Improvement Districts in California alone. These organizations help shepherd the growth of local and regional tourism economies in partnership with destination marketing organizations, hotels and other regional tourism businesses. Their continued growth underscores the level of importance local communities and their workforces place on travel in 2018.
Globally, the WTTC is projecting a 50 percent jump in international tourism in the next four years, and the U.S. Travel Association has projected the nation's travel market will have increased by 40 percent in the decade ending in 2020.
In California, businesses and destinations will welcome a record 303.8 million visitors by 2021 following the pattern of exponential growth over the past two decades. Those visitors directly translate to revenue that fuels a workforce that shows no sign of slowing down at home and around the globe.



ADDITIONAL RESOURCES
Explore in-depth research and insights into national and global tourism: