California leads the way
Across the country, California is considered a forward-thinking state, whether as a hub of technology and innovation, an incubator of art and creativity, and a pioneer in science and agriculture. Unsurprisingly, the Golden State's role as a leader in sustainability is no different.
California has experienced ten consecutive years of growth in the travel sector, and research conducted by Visit California found that California's travelers care more about the impact they are having on the destinations they visit.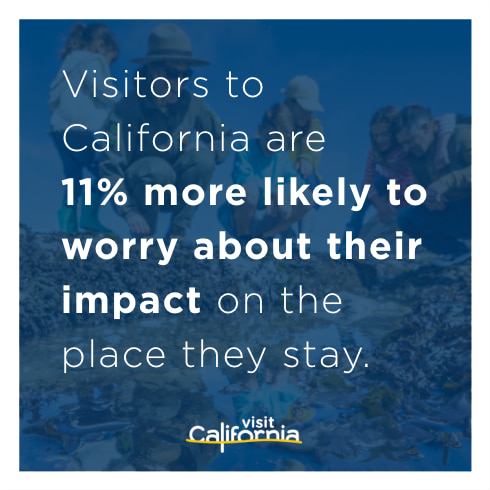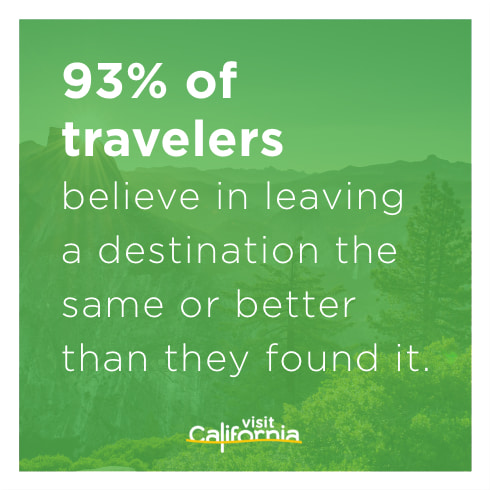 California tourists especially value and intentionally seek sustainable tourism options as they become increasingly aware of the impacts of travel.
With natural climate crises such as the ongoing drought in California, the environment and opportunities for green, sustainable programs are impacting consumer travel decisions, now more than ever.
Visitors to California are 11% more likely to worry about their impact on the place they stay than visitors to other destinations, and 93% believe that visitors to an area have an obligation to leave their environment in the same shape or better than they found it.
But sustainability in travel doesn't end with going green.
The case for responsible travel
In travel, sustainability also encompasses the preservation of the places and cultures visitors are inspired to experience.
Destination managers and travelers alike recognize the growing need for responsible tourism, ensuring the people who live and work in a travel destination benefit from welcoming visitors and that those places are preserved for generations to come.
The World Travel & Tourism Council has identified five areas that underpin sustainable growth for the industry: climate change, destination stewardship, future of work, illegal trade in wildlife and sustainability reporting.
"Rural California is home to many of the state's most stunning natural vistas and globally-recognized tourism destinations. Tourism elevates rural California, creating jobs, opportunity and sustaining services in the most majestic regions of the state."
With travel becoming more accessible to the world than ever, visitors are frequenting California's iconic destinations at record-breaking rates, prompting the state's destination managers to quickly develop new ways to educate travelers and creatively address capacity pressures.
To this end, members of the state's tourism industry remain well positioned to lead sustainability efforts within a community.
Recognizing the need to protect their natural resources, the Monterey County Convention & Visitors Bureau created a dedicated initiative to educate visitors on responsible travel.
The Sustainable Moments program was created in 2013 as an ongoing, destination-wide campaign that continues to serve as a cornerstone of the destination's marketing efforts. The three pillars of the initiative — conservation, safety and convenience — frame the visitor experience to encourage responsible tourism.
"We realized early on the importance of holistically maintaining and promoting a sustainable destination," said Rob O'Keefe, chief marketing officer for the Monterey County Convention & Visitors Bureau. "In fact, after doing a lot of research, we didn't find many destinations in the country practicing such on the scale we envisioned.

"We studied what top destinations like Iceland and Costa Rica were doing in this space. For us, it wasn't just about asking visitors to hang up their towel to save water or use proper litter bins, although those things are important."

After thorough research, the organization set out to build an initiative that involved its members as well as the greater community, sourcing input from elected officials, neighborhood associations, chambers of commerce, utility companies and other stakeholders.

"At the foundation of Sustainable Moments is the idea of balance – balancing the economic necessity of tourism and the desires of our visitors with the needs of our residents," O'Keefe said. "Tourism provides a return on investment for the community in terms of jobs and tax revenues, but it also must maintain the destination's beauty and vitality for those who live here."

According to O'Keefe, tourism is a fundamental economic engine for any community, responsible for balancing economic growth for its residents while also maintaining regional quality of life.
"For tourism to work properly, it must connect a lot of dots — between local governments, businesses and other industries and associates. The MCCVB recognized both the responsibility and opportunity to strike the right balance and collaborate with the many stakeholders we work with."
Resources to learn more
For further research, visit the following organizations: