Propelling California
Since the Great Recession of 2008, the Golden State tourism industry has generated steady economic growth every year for the past decade. The industry reached new heights in 2019, when tourism contributed over $144 billion in travel spending, $12.2 billion in tax revenue, and supported over 1.2 million jobs.
The coronavirus pandemic ended California's decade of travel-related growth in 2020, but the industry is making great strides toward recovery.
In 2021, travel spending, the tax revenue it generates and the jobs it supports grew, but still lags far behind the record breaking 2019 levels, especially in the state's urban centers.
Source: Dean Runyan Associates
Funding Essential Public Services
In addition to the revenue generated for tourism businesses and destinations, the travel industry is one of the biggest drivers of state and local tax revenues that fund essential public services.
These services – which include public safety, infrastructure, development, local libraries and more -– benefit all Californians. Without the revenue generated by visitor spending, each California household would have had to pay an additional $920 in taxes in 2019.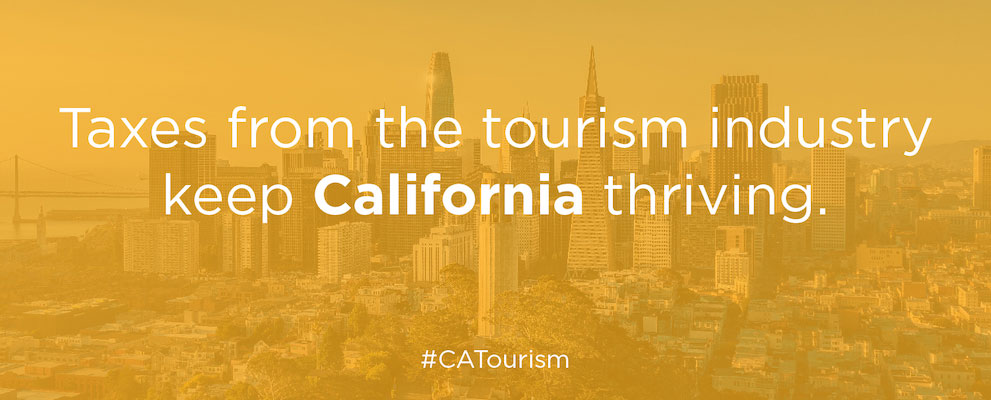 California's Top Export
International markets accounted for nearly $1 of every $5 of visitor spending in the state before the pandemic. In 2019, international travelers spent a record $28.3 billion in the Golden State, outpacing comparable industries by a wide margin. Tourism was historically California's biggest export.
Spending by international visitors plummeted to just $5.4 billion due to travel restrictions and border closures in 2021. California's travel industry cannot be made whole until international travel fully rebounds.
ADDITIONAL RESOURCES
For further research, explore the following resources.