The count of new hotel rooms opening this year is on track to break all-time state records – 32,424 in the first half of 2019, or 25% more than the number of rooms opening over the first six months of last year, according to a study by the hotel real estate services firm Atlas Hospitality Group.
By comparison, the number of new hotel projects nationwide grew by 6% from 2018 to 2019, with the number of rooms increasing by 9%, according to a study by the consulting firm Lodging Econometrics.
At the same time, California is seeing more than $4 billion a year in theme park, restaurant, travel infrastructure and other tourism-related investments.
We've been a strong beneficiary of demand from China, as international travelers stay longer and spend more, and also from domestic tourism.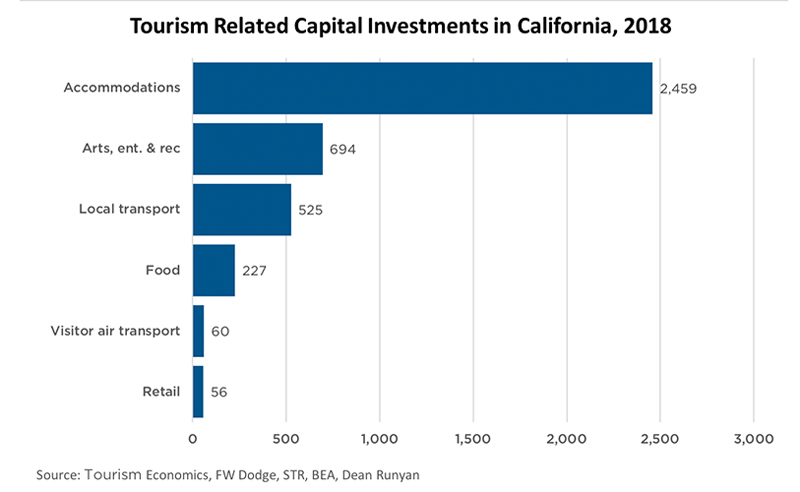 California has seen total tourism industry spending grow over the last nine years, hitting an estimated $140.6 billion in direct travel spending in 2018, according to the 2018 economic impact research report commissioned by Visit California. The report also showed travel spending generated $11.8 billion in state and local taxes and employed nearly 1.2 million Californians.
Baltin said local governments have lowered regulatory hurdles that had prevented new hotel construction.
"As government entities have struggled with budget issues, they've realized that hotel occupancy and the occupancy taxes they generate are strong sources of revenue for municipalities," Baltin said. "So cities that were neutral or anti-development in the past are more pro-development now and trying to facilitate hotel development rather than restrict it."
Building boom boosts construction trades' employment
The infrastructure growth spurt has employed even more -- particularly construction and building trades workers.
"In the past decade, hotel developers have been some of our closest partners in generating high-quality construction jobs in California," said Ron Miller, Executive Secretary of the Los Angeles/Orange Counties Building and Construction Trades Council. "They are constantly improving their standards, reaching higher and higher to make their hotels the best they can be, and attract record numbers of visitors to California. They turn to our skilled and trained union workforce to bring these plans into reality."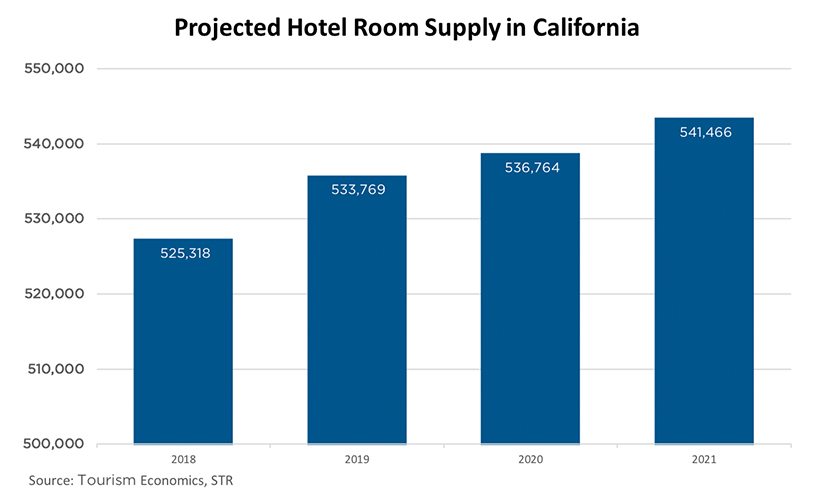 North-South trends
Los Angeles County in particular is seeing a surge in new hotel construction after enduring slow years.
The Atlas study found that 45 hotels with 7,497 rooms were under construction in Los Angeles County this year, the highest of any county in the state, followed by Orange and San Diego counties.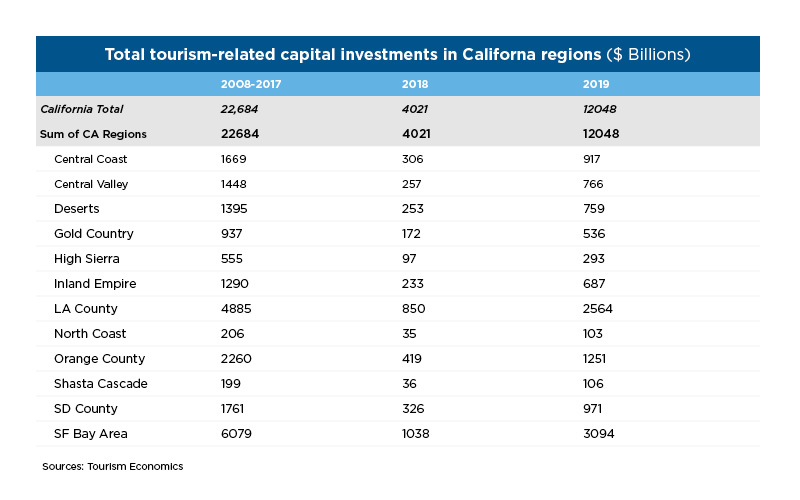 Top examples of such infrastructure investments were the recent multimillion dollar expansions of the Moscone Center in San Francisco and the Anaheim Convention Center. An expansion at the Sacramento Convention Center is underway.
Similarly, annual capital investment in hotel rooms came in highest in the San Francisco Bay Area at more than $1 billion invested yearly, compared to $901 million invested in Los Angeles County, the study found.
L.A. historically goes through starts and stops in development and is now going gangbusters as a destination. It hasn't happened in L.A. for close to a decade and people have felt they need to do hotel product in L.A. It's hitting now because we've had a good run in solid tourism growth.
Higher end, more experiential
The hotels being built now offer luxury amenities and experiences, after a move toward more economically priced, limited service in the past years, Mohrfeld said.
A good example is the Santa Monica Proper Hotel, the biggest hotel development so far this year in Los Angeles County, or the Hyatt Place in San Francisco. "A Looser Kind of Luxury," the Proper Hotel's website promises, with its employee uniforms and front counter sporting a clean, stylish look.
"No doubt about it the product for all hotels is trying to differentiate in core experience and service and the unique features of the hotel," Mohrfeld said. "Pretty good beds and amenities, that's the difference in service and experience."
That luxury-lifestyle branding also differentiates new hotels from Airbnb rentals, which despite their stellar growth haven't stopped the ongoing hotel construction boom, he said.
"You don't have the same security and consistency of the brand," Mohrfeld said. "Really the Airbnb is still more of a leisure market and larger group size and people looking to put a lot of people in one space. It's a different traveler than a hotel traveler.
Boom for how long?
With the U.S. economy showing signs of softening, the question now is: How long can this hotel construction boom last?
New hotel project announcements nationwide over the second quarter of this year were the lowest in about five years, according to Lodging Econometrics.
By Baltin's count, the current hotel boom in California is now in its ninth year. "We're expecting some softening in a couple of years," he predicted, "but not too much."
Mohrfeld agreed that hotel construction in the state was cyclical, and California could be at the tail of the current cycle.
"After this wave of development, we may have hit the top of the cycle," he said. "But five years later, all of a sudden when you have all this hotel product, then no one will enter the market for two or three years. We just have hills and valleys in terms of development."