Both measurements, reported as part of the annual tourism economic impact report prepared by Dean Runyan Associates, represent significant declines from 2019, when visitors spent $144.9 billion and state and local governments collected $12.2 billion in tax revenue.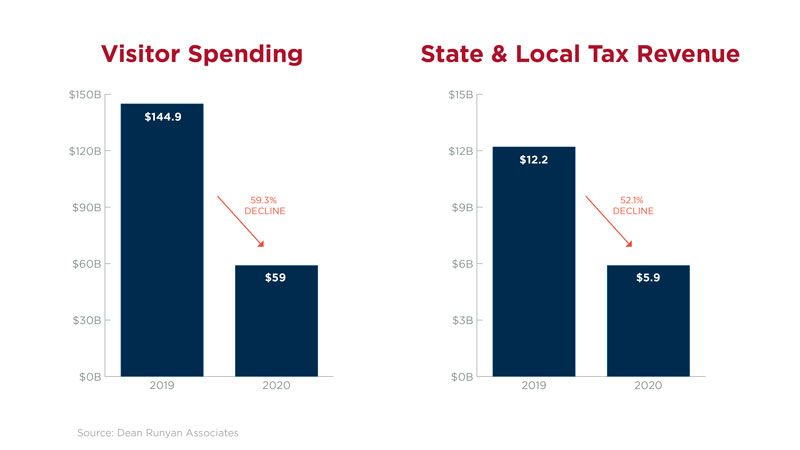 Nearly half of the 1.2 million tourism employees at hotels, theme parks, rental car and bus companies, restaurants and retail shops lost their jobs.
The job losses include tens of thousands of entry- and mid-level employees just starting their careers and beginning to move up the ladder.
More than one-third of the jobs lost in California in 2020 were in the travel and hospitality sector.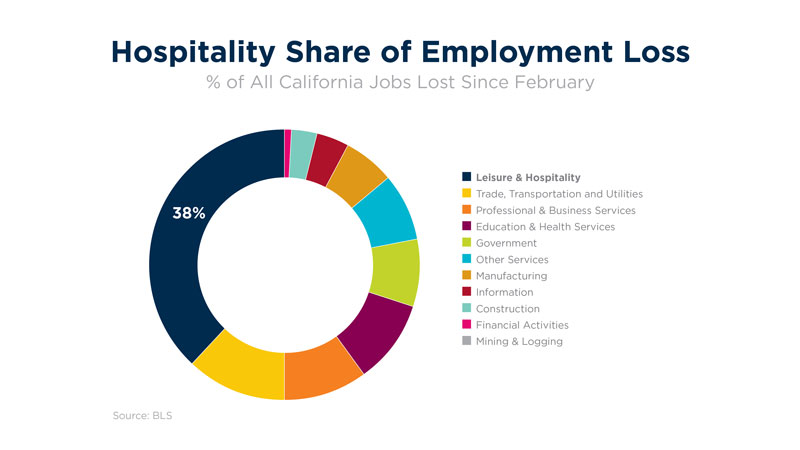 Tourism losses – particularly job losses – have affected California's urban centers more than outdoor destinations.
With vaccines increasing and caseloads dropping, California's travel industry is hopeful recovery comes quickly. But visitor spending may not return to 2019 levels until 2024 or 2025.
"We know that consumers' pent-up demand to travel increases every week – like a coiled spring about to release. We also know that consumers most inclined to spend on travel have increased their savings over the past year, making it even more likely they will spend discretionary income on travel."
The pandemic-related decline comes after a record 10 years of growth, culminating in 2019, when:
Visitors spent $144.9 billion in 2019, a 3.2% increase over 2018.

The number of travel and tourism jobs increased to 1.2 million, adding 20,000 jobs. Tourism job growth in California averaged 3.2% a year for the past decade.

Travel-generated tax revenue also grew for the 10th straight year, providing $12.2 billion to state and local governments, a 3.4% increase over 2018. Revenue from tourism saved each California household $920 a year.
It took two years less time for the travel industry to recover from the Great Recession compared to the rest of the economy.
From 2010 to 2016, travel employment grew by 17%, versus 13% in the rest of the private sector. As a result, the travel industry generated 9% of all new jobs in the United States during this period.

During the Great Recession, overall California employment fell 8.6% between 2008 and 2010, while tourism jobs dipped only 5.6%.