According to Visit California's newly released report prepared by Dean Runyan Associates, detailing the economic impact of tourism across the state in 2021:
Visitor spending in 2021 increased by 46% over 2020 to $100.2 billion.

Visitor-generated tax revenue for state and local government increased by a third, to $9.8 billion, in 2021.

Tourism jobs, which were halved at the dawn of the pandemic in 2020, recovered slowly in 2021, increasing 6.4% to 927,000.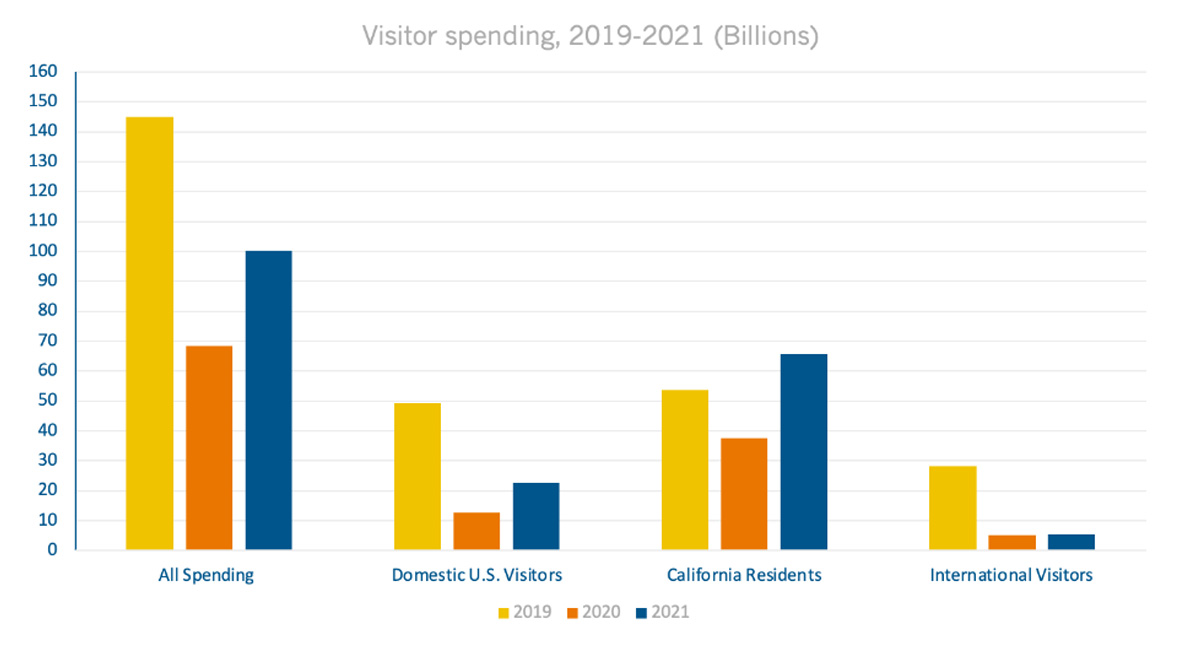 Still, California's visitor spending number remained just 69% of the record-setting levels recorded in 2019, before the pandemic lockdown and subsequent waves of government restrictions.
Only one of California's 58 counties – rural Trinity County in northwest California – recorded visitor spending that exceeded its 2019 mark.
"The increases in 2021 overall show Visit California's marketing programs are working. After a devastating 2020, visitor spending is on the stairway to recovery, but we still have a long way to go. Cities continue to suffer without the critical international and group business segments."
California's meeting market – that historically brings thousands of visitors to California's venues, hotels and restaurants – was unable to operate for most of the pandemic and has been slow to return. Meanwhile, spending by international visitors, which stood at nearly $28 billion in 2019 and was California's largest export, plummeted to just $5.4 billion in 2021.
San Francisco has been hit hardest. In 2020, visitor spending in San Francisco fell to $4.5 billion – down to less than a third of spending levels seen before COVID-19. Though visitor spending in San Francisco ticked up 21% in 2021 as pandemic-related restrictions on businesses and travel eased, it still recorded less than half as much visitor spending as it did in the high-water year of 2019.

Los Angeles, Orange County and other cities have also been slower to recover and are below the statewide county average of 82% recovery.
California's rural destinations, however, benefitted from visitors' desire to be outside and in open spaces as other activities were affected by pandemic-related restrictions. Increased tourism in many rural California communities accelerated the recovery of jobs, economic activity and tax revenues in 2021.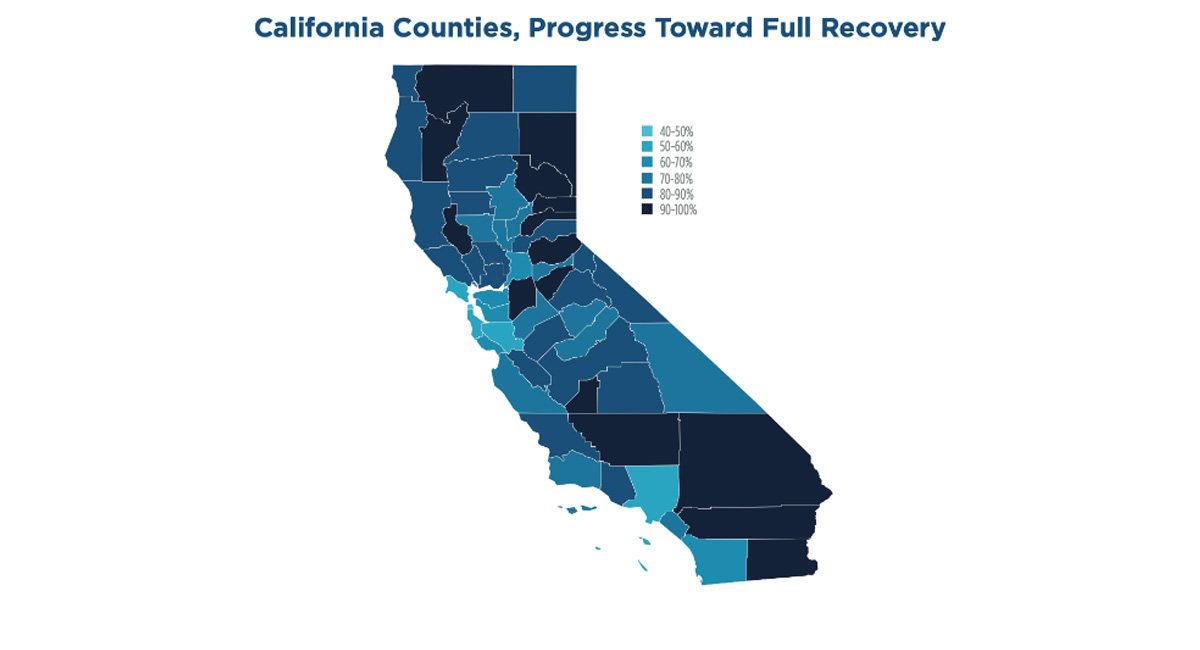 The Road Ahead
As California turns a corner in its emergence from the coronavirus pandemic, Visit California is working hard to bring the state's tourism industry back to sustained growth. The pandemic-related losses come after a record 10 years of growth, culminating in 2019, when:
Visitors spent $144.9 billion, a 3.2% increase over 2018.

The number of travel and tourism jobs increased to 1.2 million, adding 20,000 jobs. Tourism job growth in California averaged 3.2% a year for the past decade.

Travel-generated tax revenue also grew for the 10th straight year, providing $12.2 billion to state and local governments, a 3.4% increase over 2018. Revenue from tourism saved each California household $920 a year.
Aided by state stimulus funds, Visit California has launched a variety of initiatives to promote professional meetings and events in California and leisure and business travel to California's urban hubs.
The organization recently launched its first-ever meetings and events platform, targeted at positioning the Golden State as prime meeting territory and bringing business back to California.
Following the border reopening in November 2021, Visit California reestablished marketing programs in priority international markets to tap into pent-up demand and inspire travelers to choose California for their first long-haul vacations. The organization's landmark "All Dreams Welcome" initiative also continues to underpin the state's "everybody is welcome culture" with travelers across the world from every background, race, religion, sexual and gender orientation.
Visit California is building forward with an increased focus on destination stewardship and sustainability from new content and resources for travelers to best practices, workshops and webinars for travel businesses.
Economic projections, prepared by Tourism Economics and released by Visit California earlier this year, showed travel-related spending will reach $144.6 billion in 2023, nearly the same as 2019. If achieved, the tourism economy will have returned to 2019 levels a year sooner than projected a year ago. Spending now is projected to reach $155.9 billion in 2024.