Here's how tourism businesses are fostering sustainable travel practices­ and how you can go green when you visit the Golden State.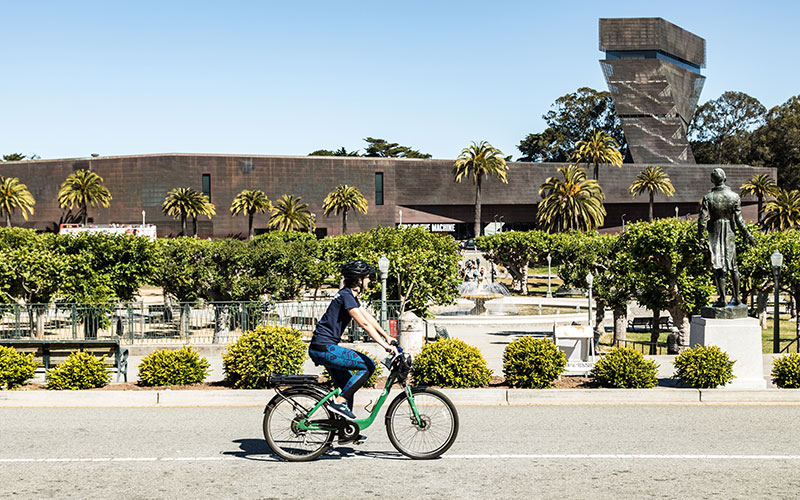 Transportation
Taking the scenic route
Getting to and from a destination traditionally has some of the biggest implications for the environment, but California tourism organizations are advancing sustainable and fun ways to travel through the Golden State.
Bicycles are a great way to travel for those who want to feel the wind in their hair. For visitors traveling through Sonoma County or Napa Valley, Wine Country Bikes is the ideal option. Tour options include traveling from Sonoma to Napa, spending multiple days in one area, or seeing all that the Wine Country has to offer in a week.
For those looking for a boost in their ride, electric bicycles are also commonplace in destinations across the state. More and more, cities are being proactive in attracting the growing rideshare companies, including beachside locales like Santa Barbara, Laguna Beach and San Diego that offer rental options. These forms of alternate transportation provide travelers with an option to take a speedy ride with ocean views or have a quick look around before lounging in the sun for the rest of the day.
Environmentally friendly transportation options also are available for those looking to sit back and relax between destinations. Amtrak's expansive California routes offer stops at most large cities and towns, with three lines crisscrossing the state. Amtrak also offers vacation routes for travelers who are looking to book train-lodging-tour packages to some of California's beloved destinations, including Los Angeles, San Francisco and Yosemite. In 2017, Amtrak served more than 11 million passengers in California alone.
Major rental car companies in California also offer the option to secure fuel-efficient hybrid vehicles for Golden State road trips, with some getting more than 50 miles to the gallon of gasoline.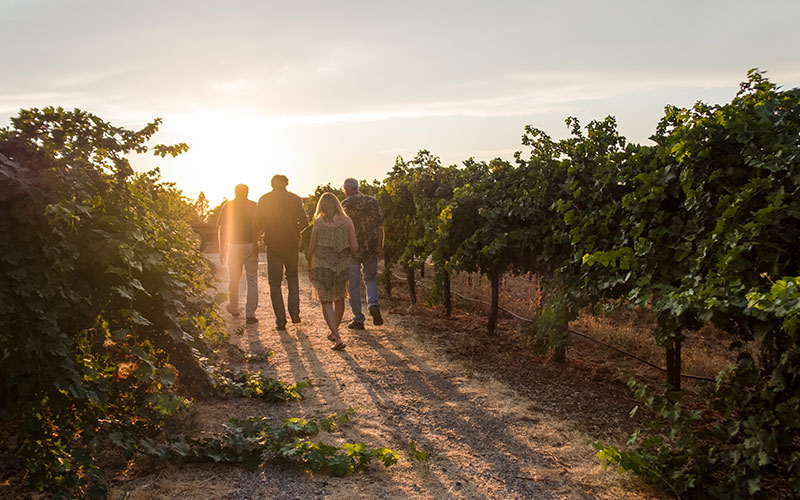 Culinary
Down in the dirt with farm-to-table
California offers dynamic dining experiences without compromising on sustainability, inviting foodies to enjoy the cuisine they love while knowing that they are being kind to Mother Nature. Whether travelers are looking to be surrounded by nature throughout their meal, are looking to unplug, unwind and dine for the weekend, or simply want to make a stop at a green eatery, the Golden State offers it all.
Santa Cruz-based chef Jim Denevan's innovative idea of a traveling restaurant that serves farm-to-table dinners comes to life through Outstanding in the Field, with the ultimate goal to connect those who plant and harvest ingredients with those who enjoy the final product. Outstanding in the Field provides a uniquely intimate experience that travelers can enjoy alongside breathtaking views.
After a long and exciting day of traveling, visitors can find a home at The Flower Farm, a bed and breakfast in Placer County. Nestled within a working citrus orchard, travelers can expect to be welcomed by the scent of fresh fruit and awakened by the smell of a homemade breakfast the morning after. With a vegetable garden and wine-tasting room to top off the trip, travelers are sure to find relaxation while enjoying sustainably grown food.
The movement isn't limited to brick-and-mortar establishments either. Southern California-based food trucks. Let's Be Frank and Green Truck are but two examples of myriad mobile restaurants using organic ingredients and grass-fed beef to serve up environment-conscious dining on-the-go.
Regionally speaking, California is uniquely positioned to lead the way in this space. The state's central valley in particular is known as the breadbasket of the United States, responsible for production of nearly all of the country's rice, almost, tomatoes and more. And at the heart of the region, it comes as no surprise the Sacramento is officially known as "America's Farm-to-Fork Capital."
The Green Restaurant Association website provides a list of California restaurants that have met sustainability benchmarks in energy, water, waste, food, chemicals disposables and building.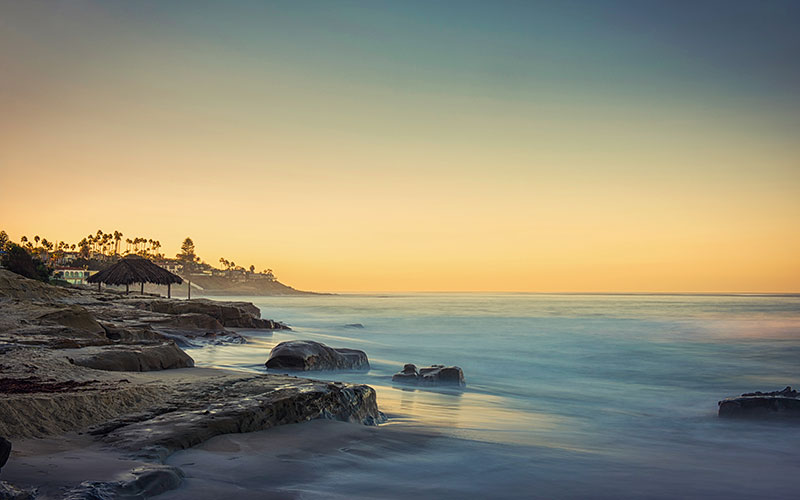 Outdoors
Making waves for future generations
Outdoor-adventure-seeking travelers may be pleasantly surprised by the ways that they can give back to nature during their trip.
The website for California parks includes a section for kids with environmental-minded programs such as Junior Rangers and Litter Getter. The Redwood EdVentures page is a kid-friendly guide to the Lost Coast.
Ocean-loving travelers also have options to be environmentally conscious on every step of their trip. San Diego offers ways travelers can stay committed to minimizing environmental impacts while having fun in the sun at the beach. San Diego's visitors bureau offers a four-day itinerary focused on sustainable tourism. From trolleys that take travelers all over the city without a car to sparkling beaches begging to be explored, travelers can enjoy San Diego while leaving the city just as green as they found it.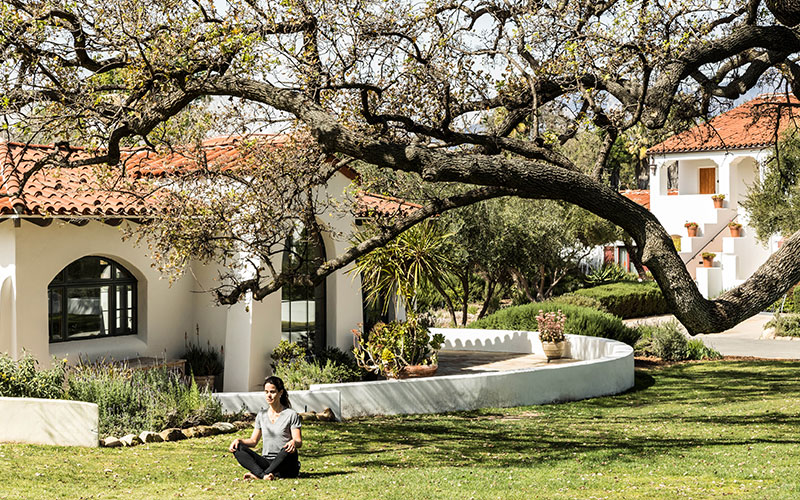 Accommodations
Luxury experiences at environmentally conscious hotels
Environmentally conscious travel in California doesn't mean that travelers have to give up luxury accommodations. Many Golden State hotels are going the extra mile to commit to saving the planet.
In addition to being home of the world's most iconic attractions such as Universal Studios, Santa Monica Pier and the Hollywood Walk of Fame, Los Angeles offers luxury hotel experiences that allow visitors to stay green. Los Angeles hotels can earn the Green Seal after passing a certification process. The Westin Bonaventure Hotel & Suites invested $20,000 in environmentally friendly practices to ensure that travelers can enjoy luxury experiences while knowing that they are supporting businesses that in turn support the environment.
Laguna Beach is another oceanside destination home to numerous sustainable properties. The Ranch at Laguna Beach made National Geographic's Unique Lodges of the World list and is one of only six properties to earn the designation in the United States. With a commitment to sustainable tourism that includes water reclamation, recycled glass ground to fill golf course bunkers, and an organic garden, travelers who love the environment also will love their time in Laguna Beach.
Waste reduction
Committing to Zero Waste in the Golden State
There are many solutions for those who want to experience all that California has to offer without contributing to a growing landfill. With a large selection of zero-waste restaurants and an entire city dedicated to producing zero waste by 2020, travelers are sure to leave inspired by the Golden State's efforts to going green.
Zero-waste restaurants are becoming increasingly mainstream, including Wolf in Los Angeles, Wrench & Roden Seabasstropub in Oceanside or The Stanford Inn's Ravens Restaurant in Mendocino. The restaurants use cooking practices that minimize or eliminate waste from food production through holistic dining and recycling programs. Some places even grow the very ingredients that make it to the plate. The Stanford Inn's Ravens Restaurant has its own USDA-certified organic farm to serve as a zero-waste vegetarian option.
Going zero waste is not just for restaurants. San Francisco has announced plans to go zero waste by 2020, and is already halfway there, diverting 78 percent waste from landfills. Travelers can help by supporting Green Businesses, which are sustainably-minded businesses recognized for meeting environmental standards by the California Green Business Network.