That down-home environment draws the longtime journalist, baseball junkie and now resident of Anchorage, Alaska to minor league baseball in California. He can catch a game for a few dollars, try out pulled pork nachos or some other local cuisine and chat after the game with a young player who might just become the next Mike Trout.
"The thing about minor league baseball is you're a lot closer to the players," Rush said. "You also might see someone who might be a really great ballplayer."
Rush isn't the only sports fan who's more interested in, say, the Inland Empire 66ers and the Fresno Grizzlies than the San Francisco Giants or the Los Angeles Dodgers. A whole world of minor league and amateur sports is filling arenas and stadiums in smaller markets all over California, drawing locals and out-of-town fans like Rush to indoor soccer, regional track and field meets and marathons.
"Because there are so many teams in California, there are so many opportunities to see so many different cultures and so many towns. California gives you an opportunity that you don't get anywhere else."
The events are not only filling hotels and restaurants in a range of destinations. They're also introducing cities such as Ontario and Sacramento to visitors who might come back later to try out the local wineries or restaurants, after the last inning is played.
"People indirectly see the destination. They didn't do everything they could and they want to come back. They experience my city and I have more opportunity to expose them to what we have here."
Investing in Amateur Sports
California State University, Sacramento, for example, has seen a boom in track and field events after spending $1.2 million to build a state-of-the-art running track on the campus, said Mike Testa, president and CEO of Visit Sacramento, which promotes tourism to the state capital.
Sacramento is now looking at adding more sports infrastructure to draw other regional and even national sporting events, Testa said. It helps that California's temperate weather and natural beauty already draw millions of international visitors, especially during the winter.
"If you build the right event and there's a cache of interest, teams from Massachusetts or the East Coast will come," Testa said. "We think we can program 40 weekends a year if we have the right facilities. Soccer, rugby, lacrosse - there's a lot of business out there but not a lot of facilities in Northern California."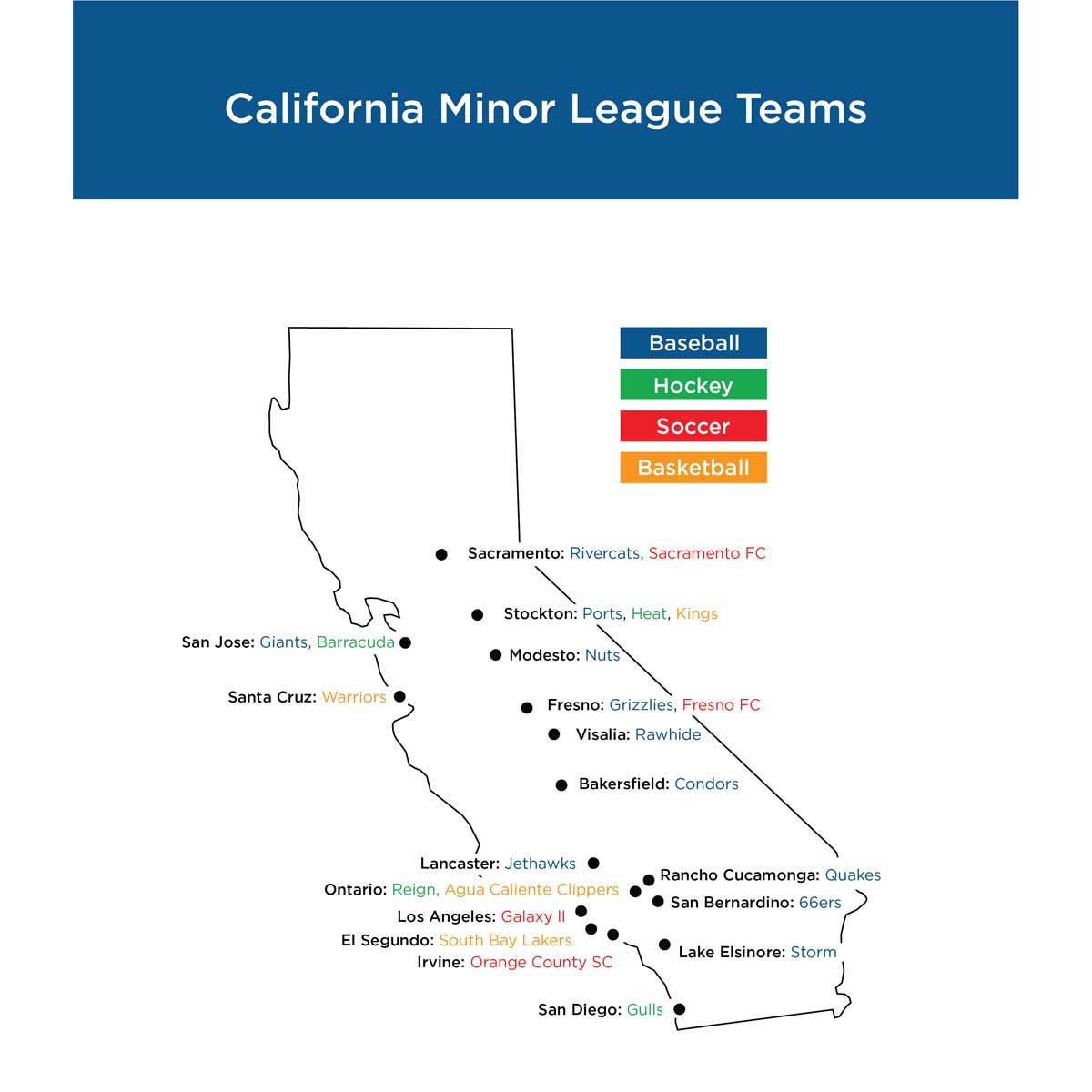 Revitalizing local economies
According to a national telephone survey conducted by the research firm creditcards.com, Americans spent $56 billion on sporting events in 2016, with 34 percent of respondents having paid to travel to or attend a sporting event.
Another study by researchers at Temple University and the University of Florida found that the level of sports spending varied based on the type of visitor. During one running event held in Miami, people who came both to compete and take a vacation spent more money during their time in town than those who came only to compete. In this case, the biggest spenders were often Hispanic visitors drawn to Miami for its Latin American culture.
Toyota Arena, which opened in Ontario in 2008, has fueled a resurgence of hotels, wine bars and restaurants in the Inland Empire city due to people attending American Hockey League games, professional bull-riding tournaments, concerts and other events at the venue, said Sue Oxarart, director of marketing and communications for the Greater Ontario Convention and Visitors Bureau. It generates $95 million a year in hospitality spending.
"People are fans of the LA Kings but may not want to drive out to LA and even people from LA want to see the next athletes who will be at that level," Oxarart said about the American Hockey League games played at the arena. "They're young athletes and they're fighting hard because they want to get to the big leagues. A lot of times, the intensity of the games is amazing."
Minor league bounty in California
For Rush, the sheer number of professional baseball teams in California means a bounty of minor league teams that play in cities such as Visalia, Stockton and San Jose. Last May, he joined his son D.J. to catch seven minor league games in just as many days up and down the state, an itinerary that would be hard to duplicate in most any other place.
The minor league schedule took him to agricultural towns in the Central Valley with few tourists. By chatting up the locals and simply being curious, Rush would usually discover something special. Sometimes, it was amazing produce grown within miles of the stadium. In Modesto, the whole town came out for a night game between the Lancaster JetHawks, an affiliate of the Colorado Rockies, and the Modesto Nuts, a farm team for the Seattle Mariners. Three mascots as well as a fireworks show entertained the crowd.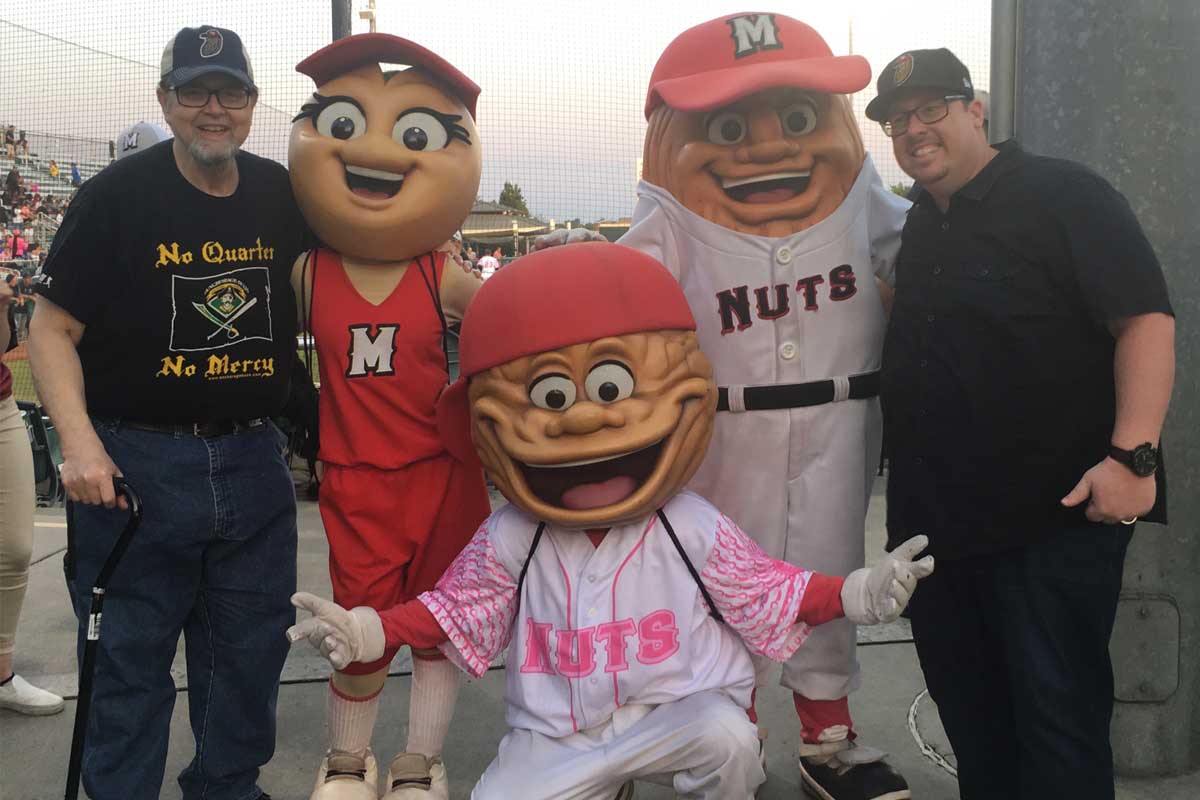 Dave Rush (left), of Anchorage, Alaska, poses with his son, D.J., and the Modesto Nuts baseball team mascots.
At each stop, Rush met local fans as well as players with Major League dreams. He was rarely shy about joining the between-inning entertainment when invited.